CANCELLED: IVY+ EVENT: YALE CHICAGO'S INNOVATION SERIES LECTURE: GENOMICS, GENETICS, ETC - APRIL 19, 2023
The Yale Chicago Innovation Series will feature thought-provoking talks by Yale alumni on a broad range of innovation-related topics in the sciences, technology, entrepreneurship, climate change and renewable energy, public health, and more. Innovation Series Lecture attendees will have the opportunity not only to learn from some of the world's leading experts in their fields, but also to connect with Yalies and other Ivy+ alumni.
For their inaugural lecture, Professor Tao Pan '90 PhD will speak on "Genomics, Genetics of Rare Diseases, and New Therapies." Rare diseases are mostly genetic in origin and collectively affect over 30 million people in the United States; most currently do not have treatment options. Pan will discuss genomics and genetics of rare diseases and new treatment strategies being developed with an emphasis on RNA therapies.
Doors open at 6:00 pm; the lecture will begin at 6:30 pm. The lecture will be followed by a reception with hors d'oeuvres, wine, and beer.
This event has been CANCELLED by the organizers. Anyone who already registered will receive a refund

Wednesday, April 19, 2023
6:30 - 8:30 pm
Sidley Austin, LLP
1 S. Dearborn St
Chicago, IL 60603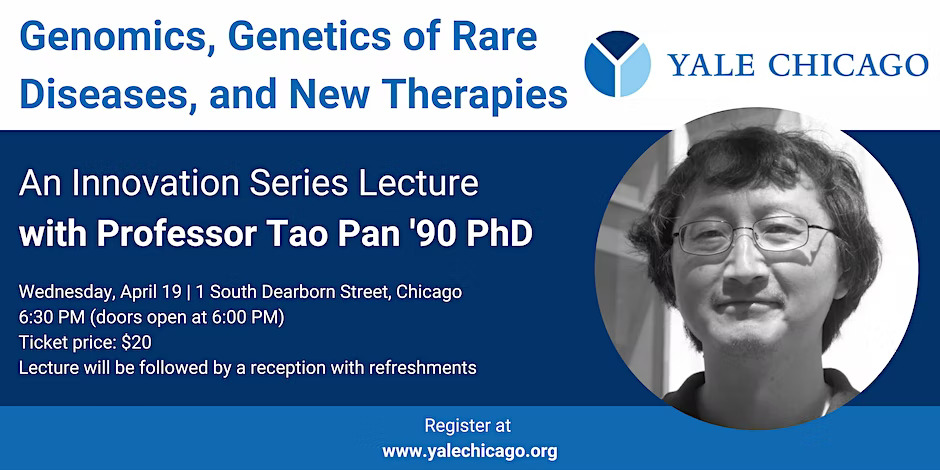 About the speaker: Tao Pan '90 PhD is a Professor of Biochemistry and Molecular Biology at the University of Chicago. His current research focuses on functional genomics and biology of tRNA and dynamic epitranscriptome of RNA modifications in both basic and clinical science. He is a co-founder of two startup companies focusing on therapeutics on genetic diseases and companion diagnostics.