ANNUAL (UN)DINNER FEATURING THE HONORABLE JAMES LEACH '64 - MAY 13, 2021
Join Princeton alumni, parents, students, and friends as we gather virtually and hear remarks from
Honorable James Leach '64
,
former 30-year member of the House of Representatives and chair of the National Endowment for the Humanities.
We will also honor fellow Tigers

Marquis Parker '99 S02

for

service to Princeton and

Bruce Rosenberg '69

for service to our Chicagoland community.
We hope that many of you will consider reserving Benefactor, Patron, or Sponsor tickets and help to ensure the success of this event and the health of our Princeton Club of Chicago.
Your support enables us to offer special discounted rates for recent grads, current students, and Princeton AlumniCorps (formerly Princeton Project 55) fellows, and host newly admitted students in the Class of 2025. Your generosity will be noted in the dinner program. THANK YOU!
Reserve by clicking on the yellow highlighted link below!
The Princeton Club of Chicago
cordially invites you and your guests to
virtually attend the

2021 Annual (UN)Dinner
Thursday, May 13, 2021
This year's event features
The Honorable James Leach '64
discussing
"Is There A Future in Bipartisanship?"
The Club will also honor
Bruce Rosenberg '69
John Fish '55 Distinguished Service to the Community Award
&
Marquis Parker '99 S02
Arnold M. Berlin '46 Distinguished Service to Princeton Award

We may be virtual this year, but Orange and Black attire is always welcome!
PLEASE JOIN A FEW MINUTES EARLY SO THAT WE MAY START ON TIME
5:00 - 6:00 p.m. - Tiger 'Tail Virtual Reception (optional)
Concoct Princeton-themed cocktails and engage in a mixologist-led session with The Violet Hour
- please note that tickets for this reception must be purchased separately by May 9 @ 6 pm via the link(s) at the bottom of this page -
5:30 p.m. - Pre-Event Social
6:00 p.m. - Opening Remarks and Awards Presentation
6:30 p.m. - Keynote and Q&A with James Leach '64
For details and to purchase tickets for the optional Tiger 'Tail Virtual Reception please scroll down to the bottom of this page,
but PLEASE make sure you register for the event ALSO
PLEASE REMEMBER TO ANSWER ALL QUESTIONS
and CLICK THE SUBMIT BUTTON WHEN YOU ARE FINISHED
---
Questions?
Contact Annual (UN)Dinner Co-Chairs, Lisa Barron '84 at lbarron@decades.com and Stephen Ban '84 at spban@alumni.princeton.edu or Princeton Club President Amy Treciokas '87 at amyananda@gmail.com.
---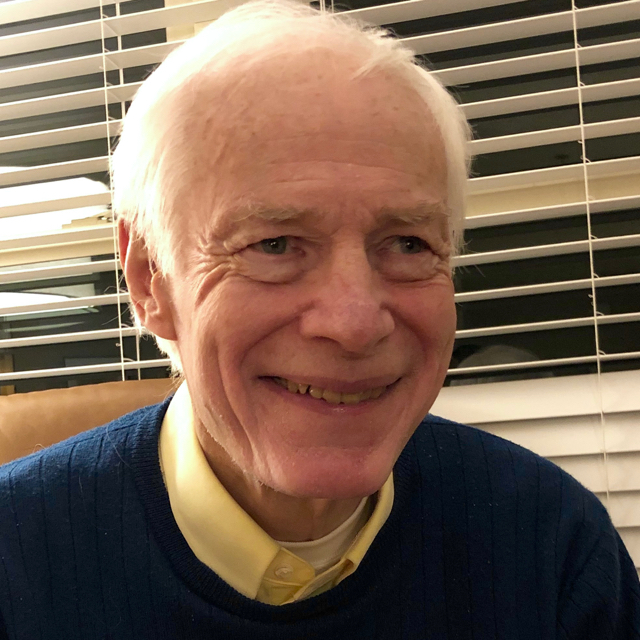 Honorable James Leach '64
Jim served as the 9th Chairman of the National Endowment for the Humanities before accepting an appointment as the inaugural University of Iowa Chair in Public Affairs and Visiting Professor of Law in the College of Law. Prior to heading the NEH, Leach was a Professor at the Woodrow Wilson School at Princeton University and Interim Director of the Institute of Politics and Lecturer at the Harvard Kennedy School. Leach's brief stint in academia was preceded by 30 years of service as a Member of Congress where he chaired the Banking and Financial Services Committee, the Subcommittee on Asian and Pacific Affairs, the Congressional-Executive Commission on China, and the bi-cameral Arms Control and Foreign Policy Caucus. He is a fellow of the American Academy of Arts and Sciences, the Council on Foreign Relations and formerly served as a trustee of Princeton University.
Leach graduated with honors from Princeton, received an M.A. from the School of Advanced International Studies of Johns Hopkins, and did additional graduate studies at the London School of Economics. He is the recipient of the Wayne Morse Integrity in Politics Award, the Adlai Stevenson Award from the United Nations Association, the Sidney R. Yates Award from the National Humanities Alliance, the Edger Wayburn Award from the Sierra Club, the Norman Borlaug Award for Public Service, the Wesley Award for Service to Humanity, and the Woodrow Wilson Medal from Princeton.
A three-sport athlete in college, Leach was inducted into the Wrestling Hall of Fame in Stillwater, Oklahoma. Leach has two children -- Gallagher and Jenny -- and resides in Iowa City with his wife Elisabeth (Deba).
---

Bruce Rosenberg '69,
John Fish '55 Distinguished Service to the Community Award
Bruce has been a member of the Princeton Club of Chicago for over fifty years and a director of the Leadership Group for the past eleven. He is devoted to community service efforts in the city of Chicago with a particular passion for supporting and mentoring students from under-resourced communities and helping them to realize their potential. He is a dedicated leader of the Princeton in Chicago Schools (PICS) program, a partnership established in 1990 with Theodore Roosevelt High School in the Albany Park neighborhood. He has been a tireless volunteer math tutor for the past 27 years and a key member of the PICS Scholarship Committee, which awards college scholarships to high school seniors, many of whom are the first in their families to attend college. Bruce is committed to the success of students at Roosevelt and continues to offer counsel and support as they navigate the challenges of college life. Bruce has also been a volunteer with the Chicago Scholars program since 2015, staffing job fairs, interview workshops, and assisting with college essay writing labs.
Bruce graduated from Princeton with a degree in Economics and is a self-employed CPA in Chicago. He and his wife, Debbie, enjoy traveling and have visited all 50 states, all seven continents and all 62 of the United States National Parks. It will be 63 parks when they visit the newest one, New River Gorge, in West Virginia in April.
---
Marquis Parker '99 S02,
Arnold M. Berlin '46 Distinguished Service to Princeton Award
Marquis is Global Director of HR Operations, Systems, and Analytics for Relativity, a Chicago-based software company. Previously he worked as a management consultant at McKinsey & Company and a strategy and operations executive at Aon plc. Outside of work, he helps wife Traci Burch '02 chase their son Thomas around and participates in a range of other activities, including mentoring students and young professionals, travel, sports (huge Bulls fan), and advising people on careers and graduate education.
Marquis has been a member of the Princeton Club of Chicago Leadership Team since 2011. He served for eight years as Chair of the Princeton Prize in Race Relations for Chicago and currently serves on the National Board. He mentors AlumniCorp/Project 55 fellows, interviews applicants to Princeton every year, and is an active supporter of the Princeton Club Diversity events.
In service to Princeton, Marquis helped to plan the 2019 Thrive: Celebrating and Empowering Princeton's Black Alumni conference as a member of the steering committee, serves as a leader in Princeton's Connect Initiative (alumni giving effort targeted at Black Princeton alums), and continues as a mock interviewer for current students through an initiative with Princeton's Career Services Office.
Marquis graduated with a degree in Computer Science and also holds an M.B.A. and M.A. in Education from Stanford University (2006) and an M.S. in Management of IT from the University of Virginia (2003).
---
OPTIONAL Tiger 'Tail Reception with The Violet Hour @ 5 - 6 pm
Mini cocktail kit + 1 hour long virtual demo by Abe from The Violet Hour on May 13 from 5 - 6 pm. Includes Princeton-themed drinks: "The Orange Moon" (old fashioned) and "The Tiger Roar" (whiskey sour) using Turmeric and Saffron Syrup.
ORDER by May 9 @ 6 pm:
Option 1: PICK UP your cocktail kit from The Violet Hour (1520 N Damen Ave., Chicago, IL 60622) on May 12 between 4-8 pm: CLICK HERE FOR PICK-UP
Option 2: Have your cocktail kit DELIVERED (additional $20) on May 12 within a 25 mile radius: CLICK HERE FOR DELIVERY