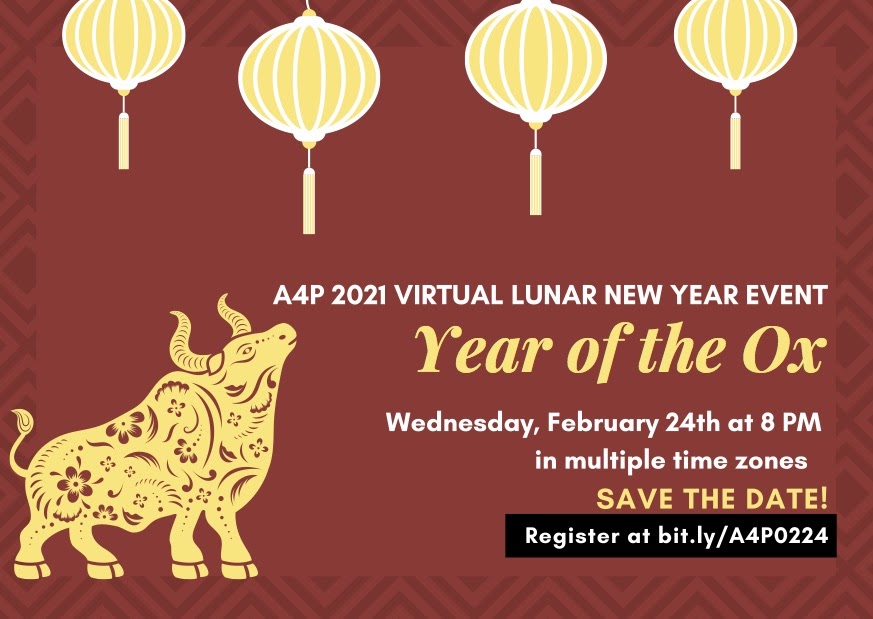 A4P Lunar New Year Celebration - Follow the New Moon - FEBRUARY 24, 2021
The Princeton Club of Chicago and the Asian American Alumni Association of Princeton (A4P) invite you to follow the new moon as we celebrate the Year of the Ox live across time zones!
Since we can't dine together, let's e-share favorite dishes and traditions! Feel free to join in and drop off any and all: Feb. 24th 8 PM Taiwan/Asia, 8 PM EST, 8 pm CST, 8 PM MST, 8 PM PST, 8 PM HST (Hawaii)
Alumni sharing their traditions and stories will kick off each hour. Ample time will be allotted for socializing, meet and greet.
Hope to see you. Present YOUR tradition!
All are welcome!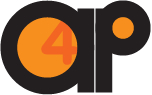 Lunar New Year Virtual Celebration
Wednesday, Feb 24, 2024 @ 8 pm in multiple time zones
Zoom link will be shared with registered guests.
CLICK HERE TO REGISTER by FEBRUARY 23rd!
Live presentations and traditions across the time zones:
8 pm Taiwan/Asia, 6 am Central:
Red envelopes & Spring Festival trip to send Lunar New Year's greetings 紅包與拜年走春- Pei-Ting S. Chou *05
8 pm Eastern, 7 pm Central:
Red Envelopes Show & Tell - Benny Mah '82
Soup and Drinks of the Korean New Year - Hyeseung Marriage-Song '01
Dumplings and Doing (video) - Jilly Chen '13
8 pm Central:
Tiger sharing
8 pm Mountain, 9 pm Central:
Dumpling folding techniques family style- Emily Chan '97 and Misha '23
8 pm Pacific, 10 pm Central:
Pre-K, Pageants, Poise. The Little King & Queen and Miss L.A. Chinatown - Doug Chin '83
Can you name this dish? - Nuss Visatemongkolchai '17
You are welcome to send in your registration (with photo/video if available):

• Family stories / tales
• Recipe favorites
• Country-specific celebration: Chinese, Korean, Japanese, Thai, Vietnamese, Malaysia, Singaporean and more.

We'll provide Year of the Ox projections!
All Tigers, Family and Friends are Welcome!
Celebration Format: Alumni video clips (10 min.), live sharing of traditions (10 min.), A4P regional breakout rooms (15 min.), self-selected breakout rooms (15 min.). All times approximate.
A4P Regional Zoom breakout room leaders:
Boston - Vivian Ling '94, Chicago - Shirley Lee '13, Cincinnati - Lindie Wang '14, DC MD VA - Kitty Hsu Dana '77, Rose Li *92, Nicholas Wu '18, Hawaii - Rachael Wong '94, Houston - Wendy Lang '13, Jessica Li '18, Minneapolis St. Paul - Howard Chan '97, New York - Benny Mah '82, Northern NJ - Dan Joa '77, Princeton - Nancy Lin '77, Rocky Mountain - Emily Chan '97, Northern California - Chris Loh '86, Southern California, Los Angeles - Renee Chang '11, Doug Chin '83, Southern California, Orange County - Jeannie Su '91, Southern California, San Diego - Mokyou Hyun '97, Taiwan / Asia - Pei-Ting S. Chou *05, Toronto, Canada - Belinda Schubert '03, Dan Berbecel *19, Western Washington - Seattle - Elaine Chan '73...and more to be added
QUESTIONS?
Contact Shirley Lee '13 @ shirleylee@alumni.princeton.edu.
Registration link issues? Email a4ptiger@gmail.com with your name and class year
---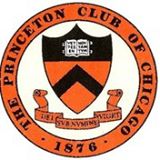 Not yet a member? CLICK HERE to Join PCC now to receive event discounts, priority registration, and to support the Princeton Club of Chicago! Membership is FREE for Class of 2020 until Class of 2021 graduates, but you must join. Membership starts at only $25/year.