MOONE-TSAI VIRTUAL WINE TASTING WITH LARRY TSAI '79 - NOVEMBER 12, 2020
Please join the Princeton Club of Chicago and the Asian American Alumni Association (A4P) for a private and custom-curated wine tasting with co-owner and founder,

Larry Tsai '79

, of Moone-Tsai wines.
Thursday, November 12, 2020
6 - 7:30 PM central
Virtual Interactive Wine Presentaton and Tasting + Q&A
Zoom link will be shared with registered guests.
In 2003,
Larry Tsai '79 P13

and his wife,

MaryAnn S79 P13

, started their own winery as a "fun little project." Today, they are full-time vintners at Moone-Tsai Wines, which produces a variety of Bordeaux-style wines in Napa Valley, California. With a commitment-to and experience-in creating notable wines, including the production of three celebrated #1-rated wines in the world, they created Moone-Tsai Wines with the simple mission of crafting the finest wines, whose pedigree is rooted in an extraordinary combination of exceptional fruit, terroir, and artisanal winemaking. To view a short photo montage of our last event featuring Larry in 2016, please

click the link

!
With Tiger thanks to Larry for special 15% Princeton discounts on wine packages. Tasting seats are limited - please reserve early! Choose between TWO or THREE bottle wine tasting packages.


---
Moone-Tsai 2017 Napa Valley Cabernet Sauvignon
Gorgeously deep ruby in the glass, our 2017 Napa Valley Cabernet opens with the alluring aromas of black fruit, dried herbs and earthiness. Vibrantly direct on the attack, this chiseled blend of cabernet and merlot invites interest with a toothsome panoply of flavor notes: dense blackberry, black plum, anise, and hints of black tea, complemented by a savory meatiness through the mid-palate that makes for a satisfying weightiness and volume. Aged twenty-two months in 42% new French oak, the wine reveals a lightly muscled structure and pleasing acidity...that should allow for enjoyment at release through the next 12-15 years. Vibrant, assertive and displaying a surprising balance of sinew and agility; the wine is reminiscent of the San Francisco Forty-Niners enormously talented All-Pro tight-end, George Kittle (#85) on one of his memorable gallops to the end zone...leaving hapless defenders foundering in his wake. The backbone of this remarkable Cabernet Sauvignon was sourced from Coombsville and Soda Canyon, an area of southeast Napa Valley where soils are characterized by a unique blend of red volcanic soils and clay. The most prominent of these vineyard blocks is planted on a gently sloping plateau, and the comparatively temperate climate of the area, versus the warmer territory up valley, serves to lengthen the growing season. The grapes are allowed to achieve full ripeness without the pressure of heat extremes common in warmer areas, and low vigor soils throughout the vineyard create small, dense clusters. With the addition of vibrant dark fruit from our preferred vineyard sources on St. Helena, Howell Mountain and Soda Canyon, the resulting wine is expressive and evocative. 93% Cabernet Sauvignon; 7% Merlot. Production: 809 cases
2016 Napa Valley Cabernet: "full-bodied, firm, grainy; lively great intensity of black, blue fruits" – 93+ points – Robert Parker
---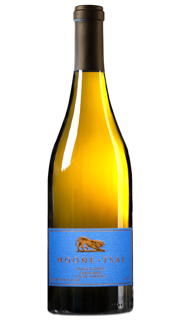 Moone-Tsai 2017 Paige Cuvée Chardonnay Ritchie Vineyard, Russian River Valley
While the whimsy of Mother Nature was on full display during the 2017 growing season, the hallmarks of brilliant fruit borne by the remarkable Ritchie Vineyard in the storied Russian River Valley glisten gloriously in the glass. Hints of floral aromas combine with a subtle grassiness and citrus notes to announce the wine's arrival. Beyond this olfactory greeting, the wine further entices with suggestions of white nectarine, lilikoi, toast, and lemon zest. Barrel-fermented and aged 16-months in 37% new French Oak, the wine is delicately oaked, and further reveals a soft layering of texture and flavors, enhanced by a pleasing acidity and subtle richness. Showing an alluring depth and nuanced complexity at this delightful stage of gilded youthfulness, this charming chardonnay brings to mind our older daughter, Paige '13, for whom this most remarkable wine is named. Planted by the venerable Kent Ritchie, this acclaimed 70-acre vineyard is located on a northwest-facing hillside in the heart of the Russian River Valley ...where the Santa Rosa Plain and the Laguna de Santa Rosa converge. On this pedigreed site known for its old vines, gnarly vines, coastal breezes and cool morning fog, the gravelly, well-drained Goldridge soil and volcanic tufa combine to foster low-yielding vines that produce coveted chardonnay grapes known for their intensity, complexity, freshness and vibrancy. 100% Chardonnay. Production: 100 cases.
2016 Paige Cuvée Chardonnay: "...delicate nuances of grapefruit, lemongrass and spiced apple"- 95 points – Robert Parker
---

Moone-Tsai 2016 Howell Mountain Hillside Blend
(included in three-bottle wine tasting package)
The deep, dark, ruby red hues of this sublime offering invite auspicious anticipation. True to its Howell Mountain heritage, bold and vibrantly expressive flavors of ripe black and red fruit, with hints of anise and sweet spices abound. While the expectation that attends its pedigreed terroir and adroit winemaking sets a high bar, the 2016 vintage of our most storied wine stands and delivers. Indeed, cued by the wine's alluring nose, the attack is marked with gravitas and vigor. Ripe blackberry, dark cherry, licorice and hints of juniper berry and baking spices lead to an assertive mid-palate ...whose deftly applied oak framing presages a "call of the wild" that will be barely contained. Throaty, brooding and almost feral, the wine's underlying power awaits to be unleashed by those who favor big, bold striking wines built for power and purpose. Sleek, brawny, and sensuous without caring to be stylish or trendy, the wine invites comparison to the classic American muscle cars whose street legality may someday be challenged. 60% Cabernet , 40% Merlot. Production: 760 cases.
2016 Howell Mountain Hillside Blend: "...full-bodied, vibrant, expressive" - 98+ points – Robert Parker
Larry Tsai '79 featured in the
Princeton Alumni Weekly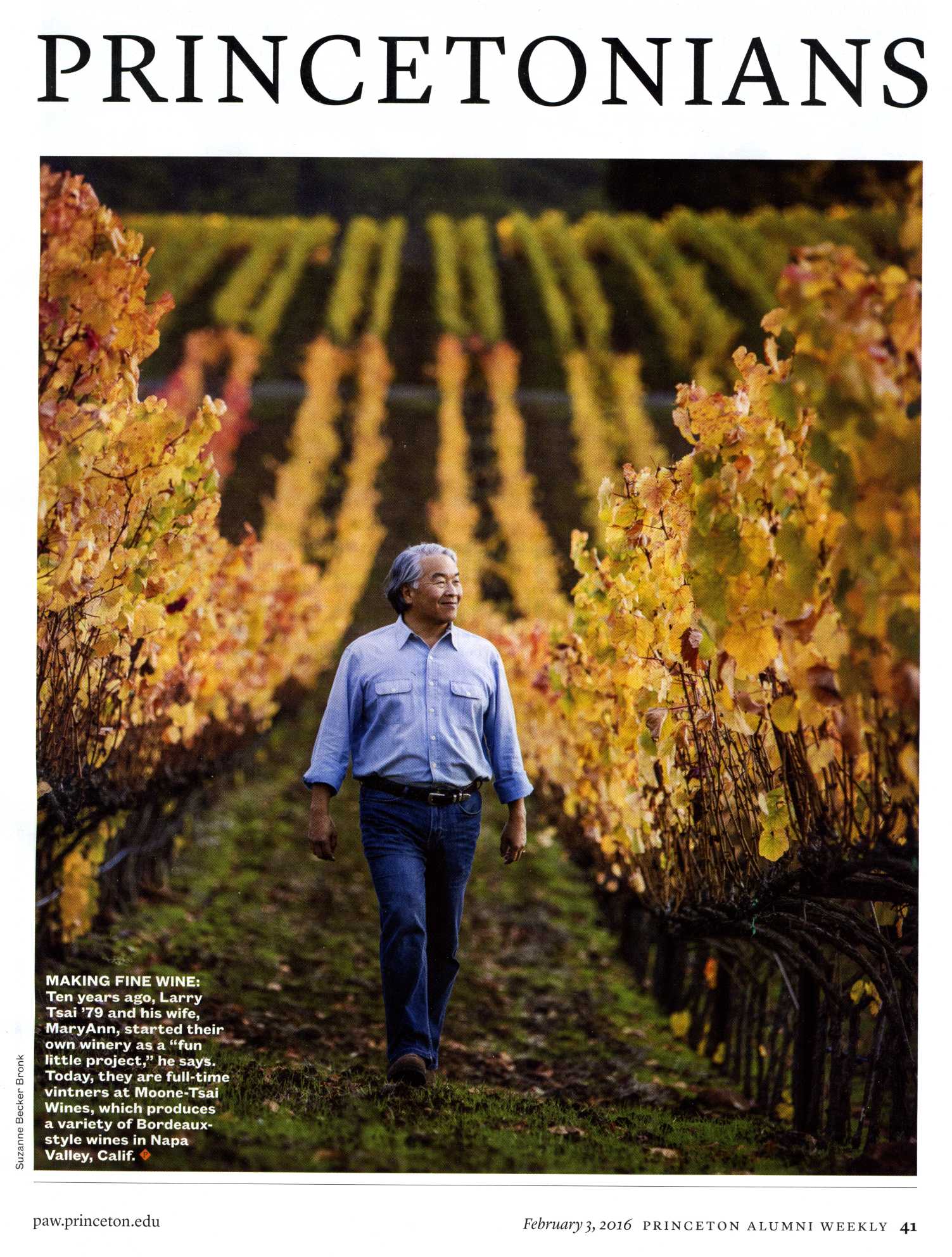 As a first generation Chinese-American boy growing up in the lively North Shore neighborhoods of New York's Long Island, Larry held a peculiar fascination for the "yin-yang" that one might confer upon the daily experience. Indeed, in an environment where conventions frequently compelled forced choices (Yankees v. Mets; Ginger v. Maryann; dim sum vs. lox & bagels; etc.), he often instead strayed to permutations of the many possibilities lying therein, and beyond.
While this fascination might have led him to distraction, he was able to synthesize this into a world view that would prepare him for the many opportunities that awaited him in college, and later, in his professional and personal life. After earning degrees at Princeton and the Stanford Graduate School of Business, Larry embarked on a variegated career that enabled him to indulge his intertwining interests in wine, food, and the arts. By way of his experiences across Fortune 500 companies, and atop emerging gourmet/food/lifestyle enterprises and Napa Valley non-profits; Larry has combined his management skills with a calling to create and deliver extraordinary wines and experiences that support the Moone-Tsai credo.