MOONE-TSAI VIRTUAL WINE TASTING WITH LARRY TSAI '79 - NOVEMBER 12, 2020
Please join the Princeton Club of Chicago and the Asian American Alumni Association (A4P) for a private and custom-curated wine tasting with co-owner and founder,

Larry Tsai '79

, of Moone-Tsai wines.
Thursday, November 12, 2020
6 - 7:30 PM central
Virtual Interactive Wine Presentation and Tasting + Q&A
Zoom link will be shared with registered guests.
In 2003,
Larry Tsai '79 P13

and his wife,

MaryAnn S79 P13

, started their own winery as a "fun little project." Today, they are full-time vintners at Moone-Tsai Wines, which produces a variety of Bordeaux-style wines in Napa Valley, California. With a commitment-to and experience-in creating notable wines, including the production of three celebrated #1-rated wines in the world, they created Moone-Tsai Wines with the simple mission of crafting the finest wines, whose pedigree is rooted in an extraordinary combination of exceptional fruit, terroir, and artisanal winemaking. To view a short photo montage of our last event featuring Larry in 2016, please

click the link

!
With Tiger thanks to Larry for special 15% Princeton discounts on wine packages. Tasting seats are limited - please reserve early! Choose between TWO or THREE bottle wine tasting packages.


---
Moone-Tsai 2018 Napa Valley Cabernet Sauvignon
The "textbook" growing season that marked 2018 allowed winemaker Philippe Melka to craft an array of exceptional wines that bear our lionized emblem. Starting with abundant rainfall in February, followed by a moderately late bud break and flowering; gloriously ideal conditions through the spring allowed for a plentiful and even fruit set, followed by a mild summer and fall. Under these nearly ideal conditions, heavenly hangtime allowed the fruit to accumulate delightful flavor complexity with oh-so-gradual increases in sugar...to yield a crop marked by exceptional quality and quantity. Deep ruby in the glass, our 2018 Napa Valley Cabernet is fragrant with black fruit, cedar and rose petal. While softly alluring on the nose, the wine's attack is assertive and vigorous, without being noisy or domineering. Concentrated notes of black cherry, boysenberry, earth, and graphite initially predominate, giving way to feints of black tea and cherry cola. Aged twenty months in 56% new French Oak, this expressive wine displays a bright acidity, chalky tannins, and a lightly chiseled muscularity all the way through to a fine, triumphant finish. Deftly potent and deceptively agile, the wine registers with immediate impact, much in the way that the Arizona Cardinals' prodigiously talented playmaker, QB Kyler Murray continues to do...since entering the NFL after claiming the Heisman Trophy in 2018. The backbone of this remarkable Cabernet Sauvignon was sourced from Atlas Peak and Soda Canyon, an area located in southeast Napa Valley where soils are characterized by a blend of volcanic and granite-like sub-soil. The most prominent of these vineyard blocks is planted at the base of Atlas Peak on the eastern ridge of the valley, at an elevation of 842 feet. Grapes from this area enjoy both the structure characteristic of hillsides, and the rich flavors that mark valley floor fruit. Western exposure provides afternoon sun for the 2,000 vines that are densely planted in soil with extremely low fertility...which invites the vines to grow deeper roots that seek nutrients and allow for intense fruit and a softer structure. 100% Cabernet Sauvignon. Production: 800 cases
2016 Napa Valley Cabernet: "full-bodied, firm, grainy; lively great intensity of black, blue fruits" – 93+ points – Robert Parker
---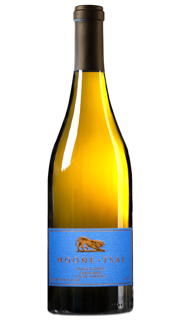 Moone-Tsai 2017 Paige Cuvée Chardonnay Ritchie Vineyard, Russian River Valley
While the whimsy of Mother Nature was on full display during the 2017 growing season, the hallmarks of brilliant fruit borne by the remarkable Ritchie Vineyard in the storied Russian River Valley glisten gloriously in the glass. Hints of floral aromas combine with a subtle grassiness and citrus notes to announce the wine's arrival. Beyond this olfactory greeting, the wine further entices with suggestions of white nectarine, lilikoi, toast, and lemon zest. Barrel-fermented and aged 16-months in 37% new French Oak, the wine is delicately oaked, and further reveals a soft layering of texture and flavors, enhanced by a pleasing acidity and subtle richness. Showing an alluring depth and nuanced complexity at this delightful stage of gilded youthfulness, this charming chardonnay brings to mind our older daughter, Paige '13, for whom this most remarkable wine is named. Planted by the venerable Kent Ritchie, this acclaimed 70-acre vineyard is located on a northwest-facing hillside in the heart of the Russian River Valley ...where the Santa Rosa Plain and the Laguna de Santa Rosa converge. On this pedigreed site known for its old vines, gnarly vines, coastal breezes and cool morning fog, the gravelly, well-drained Goldridge soil and volcanic tufa combine to foster low-yielding vines that produce coveted chardonnay grapes known for their intensity, complexity, freshness and vibrancy. 100% Chardonnay. Production: 100 cases.
2016 Paige Cuvée Chardonnay: "...delicate nuances of grapefruit, lemongrass and spiced apple"- 95 points – Robert Parker
---

Moone-Tsai 2017 Howell Mountain Hillside Blend
(included in three-bottle wine tasting package)
After inspecting the wine's deep ruby hues, one is quickly drawn to its alluring aromatics of bold mountain fruit, redolent with black cherry, plum and hints of earth and savory sage. The attack does not demur, expounding with notes of crushed blackberries, cassis, graphite, cedar and baking spices in an arcing narrative that announces the fabled story of Howell Mountain itself, from which the rich history and great traditions of Napa Valley winemaking originate. Aged 22 months in 42% new French Oak, the wine divulges a delicious dialectic of depth, density, and dimension; striking, and strident upon introduction; knowingly forthright with grainy tannins through the mid-palate, only to finish satisfyingly in wizened and soulful repose. While comparisons may be made between artisan winemaking and the care applied to establishing a well patinaed leather jacket (Steve McQueen's favorite Belstaff Racer; or Marlon Brando's Schott One Perfecto made famous in The Wild One), one cannot help but hear the incomparable Joe Walsh beckoning us with his oft-touted refrain*, ...customarily offered in concert with a toast made to fine friends and family over a thoughtfully prepared meal, tasty wines and easy conversation. The grapes that made this wine were grown in an east-facing hillside Howell Mountain vineyard perched 2100 feet above the Napa Valley floor, located just outside the Rancho. The terraced vineyard is planted on an extreme slope, producing thick-skinned clusters capable of creating a wine with intensity, structure, elegance, and weight. 55% Merlot; 39% Cabernet Sauvignon; 6% Petite Sirah. Production: 780 cases.
2016 Howell Mountain Hillside Blend: "...full-bodied, vibrant, expressive" - 98+ points – Robert Parker
Larry Tsai '79 featured in the
Princeton Alumni Weekly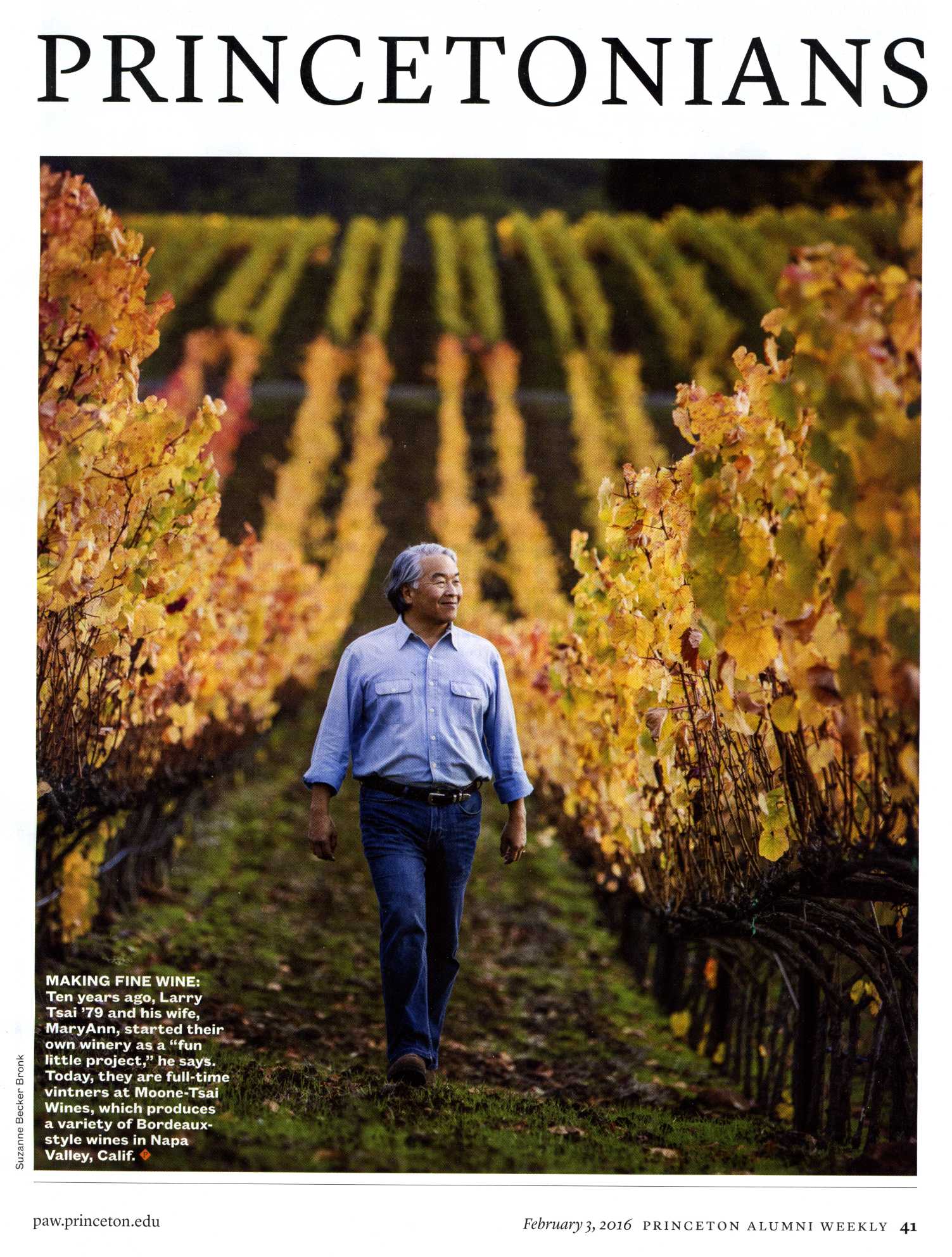 As a first generation Chinese-American boy growing up in the lively North Shore neighborhoods of New York's Long Island, Larry held a peculiar fascination for the "yin-yang" that one might confer upon the daily experience. Indeed, in an environment where conventions frequently compelled forced choices (Yankees v. Mets; Ginger v. Maryann; dim sum vs. lox & bagels; etc.), he often instead strayed to permutations of the many possibilities lying therein, and beyond.
While this fascination might have led him to distraction, he was able to synthesize this into a world view that would prepare him for the many opportunities that awaited him in college, and later, in his professional and personal life. After earning degrees at Princeton and the Stanford Graduate School of Business, Larry embarked on a variegated career that enabled him to indulge his intertwining interests in wine, food, and the arts. By way of his experiences across Fortune 500 companies, and atop emerging gourmet/food/lifestyle enterprises and Napa Valley non-profits; Larry has combined his management skills with a calling to create and deliver extraordinary wines and experiences that support the Moone-Tsai credo.