SPOT ON! YOUNG ALUMNI RECEPTION - APRIL 5, 2018
Princeton Club of Chicago Young Alumni are cordially invited to attend this special Union League Club reception featuring up and coming artist Pooja Pittie. Come for complimentary wine, cheese, and music! Space is limited!

Please RSVP below by April 3!



All are welcome!

POOJA PITTIE
SPOT ON!
APRIL 2018
Thursday, April 5, 2018
5:30 - 7:00pm
Union League Club of Chicago
65 West Jackson Boulevard
Third Floor Gallery
Graciously hosted by Sally Metzler, Ph.D. Princeton *97
​Director of the Art Collection, Union League Club of Chicago

"Stories from Old Times," 2018, 18 x 16," Acrylic and house paint on canvas.
---

Join NOW to receive PCC Member priority reservation, member pricing, and to support Princeton events and service opportunities. Membership is free for Class of 2017, but you must join before Class of 2018 graduates!
---
Please RSVP here by April 3!




Business casual attire (no jeans, denim, or gym shoes). Works available for purchase.
Questions?

Please reach out to Young Alumni Chair Irene Burke '16 at mmburke@alumni.princeton.edu
---
POOJA PITTIE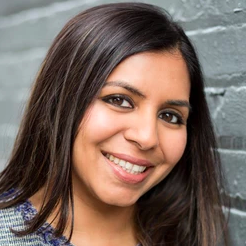 Pooja Pittie is a visual artist who lives and works in Chicago. Born and raised in India, she studied finance and accounting and moved to the U.S. in 1999. An MBA from the University of Chicago Booth School of Business led her to Chicago and a career in finance and entrepreneurship. In late 2015, she decided to pursue her lifelong passion for art and shifted her focus to painting full-time. Pooja has an incurable and progressive form of muscular dystrophy and uses painting as a way to capture some of the movement she has lost through her disability.
​
Pooja's paintings have been exhibited at venues such as Expo Chicago and Art Miami. She is represented by the McCormick Gallery in Chicago, IL
​
Artist Statement:
"Through a combination of intuitive, broad brushstrokes and deliberate, small marks, my abstract paintings allow me to explore stillness and motion and their action on each other. After being diagnosed with progressive muscular dystrophy, I am living with a constant mind-body struggle for balance between quick action and quiet inactivity. Working in my studio, I try to find connections between these constraints and the sense of limitless movement I am able to capture with paint."