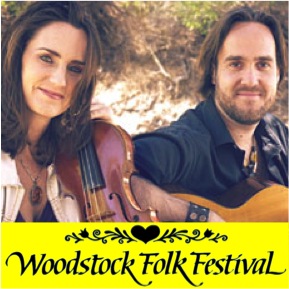 WOODSTOCK FOLK FESTIVAL - JULY 16, 2017
From stunning fiddle and guitar instrumentals to beautifully crafted lyrics, this year's 32nd Annual Woodstock Folk Festival offers something for everyone: Celtic, bluegrass, blues, fingerstyle guitar, Americana, down home swing, jazz, pop, Cajun, country, and both traditional and contemporary folk music.
The Festival features a Main Stage, Open Mic Stage, Children's Area, Ukulele Workshop, and a Lifetime Achievement Award.
Woodstock is one of the National Trust for Historic Preservation's Dozen Distinctive Destinations - AND, it was the film location for the classic movie Groundhog's Day starring Bill Murray and Andie MacDowell.
Come join fellow Tigers for an afternoon of Folk, Friends, and Fun!
Many thanks to
Carol Obertubbesing '73
for her great work spearheading this wonderful event!
Fun Fact: The musicians pictured here - Bettman and Halpin - were first introduced to Woodstock Folk Festival organizers by Edie Canter '80!
For a list of other groups playing at the Festival, please scroll down.
Sunday, July 16, 2017
12 noon - 6 pm
On the Historic Woodstock Square
Woodstock, IL
Please bring chairs or blankets for Main Stage area
Pets welcome on periphery of the Square, but not in the park itself.
Optional Attire:

Orange

and Black Princeton gear for some Tiger fun!
This event is FREE OF CHARGE, but donations to support the Festival are appreciated and help to make the event possible.
Suggested Donation @ the Festival:
$15 individuals, $25 Family, $10 seniors/students
Click HERE to let us know you plan to attend, so we may also coordinate car pools for anyone who is interested!
Don't forget to answer the questions at the end to let us know if you can offer a ride or need a ride. Thank you!
Questions? Contact Co-VP Programs Charlene Huang Olson '88 at cholson@alumni.princeton.edu or Woodstock Folk Festival President Carol Obertubbesing '73 at carolober73@gmail.com
__________________________
Not yet a member of the Princeton Club of Chicago?
Join NOW to receive PCC Member priority reservations, member pricing, and to support Princeton events and community service opportunities. Only $25/year for first-time members!
__________________________
On the Main Stage
Co-Hosted by Chuck VanderVennet and WFMT's Rich Warren
12:00 David Hawkins - Songwriter, singer, guitarist crosses the lines of folk, country, and jazz with songs of love, hope, death, loss, a splash of whiskey, and an echo of the Divine
12:30 Bettman & Halpin - Stephanie Bettman (vocals, fiddle) and Luke Halpin (guitar, mandolin) perform Americana, folk, and bluegrass; most-wanted artists at Falcon Ridge
1:15 Joan & Joni - Classically trained Allison Shapira and Kipyn Martin pay tribute to Joan Baez and Joni Mitchell as well as performing award-winning original songs
2:00 Michael Johnathon - Folksinger, songwriter, SongFarmer, author, playwright, creator and host of "WoodSongs Old-Time Radio Hour" offers a variety of "front porch songs"
2:45 Mari Black - American, Canadian, and Scottish Fiddle Champion and multi-style violinist performs dance-based musics of Europe and the Americas
3:30 Pat Donohue - Grammy-winning fingerpicker offers interpretations of old blues, swing, R&B, and original tunes; decade-long guitarist on "A Prairie Home Companion"
4:15 The Malvinas - Feminist folk trio of Beth Cahill, Gina Forsyth, and Lisa Markley blend sounds of Quebec, Louisiana, and Texas with a smorgasbord of original compositions for a feisty blend of jazz, traditional, and folk-pop
5:00 Lifetime Achievement Award and Performance: Jacquie Manning and Rich Prezioso (Small Potatoes): These local treasures tour internationally, bringing award-winning songwriting, superb musicianship, and their strong senses of tradition and humor to their performances
5:30 All-Sing Finale – led by David Hawkins
More Festival Favorites
Stage Left Café Open Mic Stage – Sign-up starts at 12:05 pm, join us and share your talent!
Special guests Briar Road (Dan Zahn, Kate Moretti, and Rusty Winchel) perform a mix of traditional and original songs in styles ranging from blues to swing (1:30 – 2 pm).
Ukulele Workshop – led by Mark Lyons. Stage Left Café (2:15 – 3 pm).
Children's Area – Hands-on arts & crafts, fun activities & more!