PRINCETON PRIZE IN RACE RELATIONS AWARD CEREMONY - APRIL 7, 2017
Please join us for Chicago's 12th Annual Princeton Prize in Race Relations award ceremony and reception featuring speaker Princeton alumna

Vanessa Tyson '98

as we recognize local high school students from Walter Payton and Latin School of Chicago who have had a significant positive impact through volunteerism on race relations in their schools or communities. RSVP by 4/5 @ noon!
The Princeton Prize is awarded to high school students in 27 regions across the nation.
Recipients are chosen by local committees of Princeton alumni who review the applications each year. Each Princeton Prize award winner receives $1000 and a trip to Princeton University to attend the Princeton Prize in Race Relations Symposium.
12th ANNUAL PRINCETON PRIZE IN RACE RELATIONS AWARD CEREMONY HONORING
Walter Payton High School
ALEXANDRA MORENO
Latin School of Chicago
2017 CERTIFICATE OF RECOGNITION
Walter Payton High School
2017 CERTIFICATE OF RECOGNITION
Friday,

April 7, 2017
(reception at 5:30 pm with program to begin at 6 pm)
Global Conference Center - Assembly Room
Please use Monroe Street entrance
With Guest Speaker

Vanessa Tyson '98
Assistant Professor of Politics, Scripps College
Author, Twists of Fate:
Multiracia
l
Coalitions and Minority Representation in the US House of Representatives (Oxford University Press, 2016)
Winner of the Ruth B. Simmons Thesis Prize and recipient of the 1998 Spirit of Princeton Award
There is no charge for this event thanks to the generosity of our host - Northern Trust and Jason Tyler '93.
Questions? Contact:
---
T H E P R I N C E T O N P R I Z E I N R A C E R E L A T I O N S
"To promote harmony, understanding, and respect among people of different races by identifying and recognizing high school age students whose efforts have had a significant, positive effect on race relations in their schools or communities."
There is perhaps no greater challenge facing our country than increasing understanding and cooperation among people of different racial backgrounds. It is a challenge that every new generation encounters. We therefore believe that young people have a particularly important role to play, and hope, through the Princeton Prize, to recognize and encourage young people who have made or are making efforts to improve racial harmony.
Princeton and its alumni recognize that the issue of race relations continues to be one of the most urgent and important challenges facing our country. We have created this program to identify and commend young people who are working to increase understanding and mutual respect among all races. Through the Princeton Prize we hope to encourage others to join in these or similar efforts and to undertake initiatives of their own.
To learn more about the Princeton Prize in Race Relations, please visit: http://www.princeton.edu/pprize/
---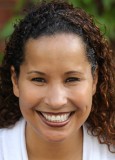 Vanessa Tyson '98, Guest Speaker
A social scientist by training, Vanessa Tyson currently teaches in the Department of Politics at Scripps College in Claremont, CA. Her courses include Black Americans and the Political System; Women and Public Policy; Introduction to Public Policy; Research Design; and Environmental Policy in the US.
Dr. Tyson's book, Twists of Fate: Multiracial Coalitions and Minority Representation in the US House of Representatives (Oxford University Press, 2016), explores structural inequality in policy formulation in the United States, and how members of Congress have formed multiracial coalitions as a strategy to provide for their diverse constituencies.
As an expert on US Congress, policy formulation, race, gender, and social justice, Dr. Tyson has an extensive background in both US and California politics. Having worked on political campaigns since she was a teenager, including three Presidential campaigns, two US Senate campaigns, and numerous state and local campaigns, she carefully considers how political dynamics affect policy formulation and consequent outcomes. She also formerly served as a committee consultant for the California State Senate analyzing criminal justice legislation including racial profiling and media access to prison inmates. Tyson has been featured in US News and World Report, the Sacramento Bee, NPR, The Huffington Post, and The Bryan Callen Show.
Dr. Tyson spent years working as an advocate for sexual violence awareness and prevention, serving as one of the founding members of the Boston Area Rape Crisis Center Survivor Speakers' Bureau, and starting a self-esteem/self-awareness program for female juvenile offenders through the Department of Youth Services in the State of Massachusetts.
Dr. Tyson has a bachelor's degree from Princeton University in politics, coupled with a certificate in African American Studies, and a M.A. and Ph.D. from the University of Chicago in political science. She has won numerous awards for teaching excellence.
---
Eva Lewis, 2017 Princeton Prize Award Recipient
Senior, Walter Payton College Prep High School in Chicago, Illinois
Eva has been pronounced by her teacher and sponsor, Leslie Russell, as the embodiment of Black Girl Magic. Eighteen months ago, Eva created "The I Project (www.itstheiproject.com) - a place where students could be free to express their art, their feelings and themselves in a creative and mutually caring environment. It is a place where women, femmes of color and their friends and supporters can congregate and freely express themselves. That is the inner Eva who is also a pillar of the local girl scout troop.
There is another Eva that believes that "Conflict is sometimes needed for change to occur." Conflict is needed to state the problem. Once the problem is stated, the powers that be must be held accountable---only then will a solution start to evolve.
It is one thing to have conviction. Eva has more than conviction, she has follow-thru. In July 2016, she was a leader in a Chicago protest with over 2,000 people in response to the murders of Philando Castile and Alton Sterling. She helped to found "Youth for Black Lives" which aims to give youth a voice in the "Black Lives Matter" movement. In a scheduled public meeting, she has confronted the Chicago Superintendent of Police and after obtaining a number of concessions left him with the question (according to Leslie Russell) "since he is a citizen and the superintendent of police who recognizes systemic injustice and dysfunction in policing in Chicago, should not he also advocate…change?"
Eva is passionate speaker who convincingly shares her devotion to racial and gender justice.