Chicago Philharmonic Jazz Concert @ City Winery - march 20, 2016
Join Princeton alumni while enjoying music by the Chicago Philharmonic Chamber Players (cp2) in their performance of Don't Mean a Thing: Timeless Tunes from the Giants of Jazz.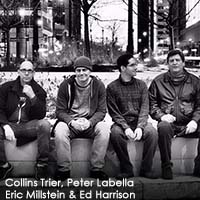 Chicago Philharmonic Chamber Players (cp2)
Don't Mean a Thing: Timeless Tunes from the Giants of Jazz
Sunday, March 20
12:00 pm
City Winery Chicago
1200 W Randolph St
Chicago, IL 60607
Concert begins at 12 pm. Doors open at 11:00 am, and brunch will be available for purchase before and during the performance. Casual attire is encouraged.
The concert will be held in City Winery's music room, which is straight ahead when you enter the building. Ask for the Princeton table when you arrive. For additional information about City Winery, including directions and parking information, see http://www.citywinery.com/chicago/faq
Tickets: $21. This is 15% off the regular ticket price. To get this discount, you must click

HERE

and enter the code "PRINCETON" into the promotional code box. If you are a student and have a valid student ID, your ticket is $8 with the promotional code "PRINCETON."
Food and Drink: Food and drink can be purchased for additional cost at the concert. Servers will provide separate checks. For a complete menu, see http://www.citywinery.com/chicago/restaurant-bar.html
Hosted by Jess Gonzalez '95.
Thanks to Donna Milanovich P17, executive director of The Chicago Philharmonic Society, for helping to plan this event.
Questions? Contact Julia Schwartz '08 at julia.k.schwartz@gmail.com
---
Ed Harrison, Vibraphone
Pete Labella, Piano
Collins Trier, Bass
Eric Millstein, Drums
Also featuring guest vocalist Frank Babbitt
The music of jazz greats including:
Duke Ellington
Keith Jarrett
Cole Porter
Bill Evans
Miles Davis
Irving Berlin
On stage at a City Winery jazz concert is probably not the first place you'd go looking for some of Chicago's most reputable classical musicians. But this Chicago Philharmonic Chamber Players quartet is hardly your typical bunch of classical musicians. Made up of a vibraphonist who's played timpani under Leonard Bernstein, a pianist who's also a professional violinist, a bassist who's played hammered dulcimer on recordings available in your local record store, and a drummer who's on the percussion faculty at the Curtis Institute of Music, the quartet also harbors an intense passion for jazz. Come hear guys who can ace Wagner scores and Beethoven symphonies put their formidable chops to work at Miles Davis charts and Duke Ellington tunes, and relax – among the swinging sounds of jazz's greats and the fragrant smells of Sunday brunch at City Winery, everything else don't mean a thing.